Learn How Forever Young Supports Local Conservation
Deeply ingrained in the heart of Islamorada and the Florida Keys, Forever Young Charter Company, known to locals and visitors as Forever Young, embodies a steadfast commitment to environmental stewardship. Fostering an enduring and genuine love for the aquatic world, our efforts span a range of conservation initiatives and sustainable practices.
As the pulse of Islamorada, FL, we continuously strive to uphold the beauty, integrity, and diversity of our unique marine ecosystem. At Forever Young, we carry the rare distinction of being the only operator in the Florida Keys to hold both the Blue Star fishing guide and dive center ratings, testifying our commitment to uphold the highest standards of conservation.
Tackling the Lionfish Invasion: Our Fight for Balance in the Florida Keys
Lionfish, though beautiful and exotic, aren't native to our local waters here in Islamorada, FL. Originally from the Pacific Ocean, these fish have created a bit of a mess in our local ecosystem of the Florida Keys and wider Caribbean. They're breeding like crazy, and that's throwing off the balance of our local marine life, impacting our beloved local fish populations.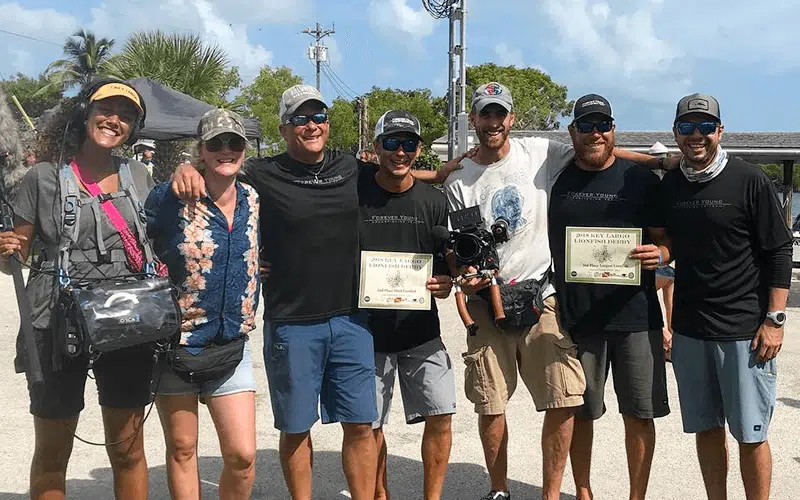 At Forever Young, we didn't just sit back and watch this unfold. We decided to take action and launched our lionfish hunting charter trips. Over the years, our skilled divers, both local and those who've joined us from all over the world, have helped us remove thousands of these invasive fish. We're not exaggerating when we say we've been a driving force in tackling the lionfish problem here in the Florida Keys.
Partnering with REEF: United in Conservation
It's not just about removing lionfish, though. It's also about understanding the issue and educating others. That's where our partnership with the Reef Environmental Education Foundation (REEF) comes in. Together, we've taken on numerous research projects and educational programs, helping us delve deeper into the lionfish issue while educating the public about this environmental threat.
Join the Fight: Lionfish Hunting Trips
One of the best parts about our work? We get to share it with you! We offer lionfish hunting charter trips where you can join our divers in the fight against the lionfish invasion. It's a unique opportunity to dive in some of the most beautiful waters in the world while also making a real difference in preserving our local ecosystem.
Empowering Local Communities: Sharing Knowledge and Experience
We believe that everyone has a role to play in conservation. That's why we're committed to empowering our local community with the knowledge and skills they need to join the fight against lionfish. By sharing our experiences, we hope to inspire more individuals to get involved and help preserve the beautiful marine life of the Florida Keys.
Our Collaborative Efforts with the Coral Restoration Foundation
Coral reefs play a crucial role in maintaining the marine ecosystem's health and diversity. That's where the Coral Restoration Foundation (CRF) comes into the picture. This organization is on a mission to restore our coral reefs and spread the word about why our oceans matter so much. And let me tell you, they're doing some really incredible work that is making a significant difference in our marine ecosystem right here in Islamorada, FL.
Our connection with CRF goes beyond just admiration. Our owner, Tony Young, had the opportunity to intern with CRF back in 2014. This experience gave him valuable insights into coral restoration, and since then, he has been actively involved in CRF's restoration projects. Tony's commitment to the cause underscores Forever Young's dedication to conserving the marine environment.
Tony Young: From Intern to Active Participant
Tony's internship with the Coral Restoration Foundation wasn't just a fleeting experience. It was the beginning of an ongoing commitment to coral restoration in the Florida Keys. He took what he learned from CRF and incorporated it into our conservation initiatives at Forever Young. Today, Tony's hands-on involvement in restoration projects serves as an inspiration to our team and customers alike.
How You Can Help: Supporting the CRF's Mission
The Coral Restoration Foundation's work is crucial for our coral reefs' survival here in the Florida Keys, and we firmly believe that everyone can play a part in supporting their cause. You might be wondering how you can help. Well, you can reach out to us directly to learn more about the CRF, or visit their website for additional information. Your involvement could make a big difference in preserving our vibrant marine life.
Our Contribution: Diving with a Purpose
At Forever Young, we've integrated coral restoration into our diving charters. When you dive with us, you're not just enjoying the magnificent underwater beauty of Islamorada, FL, you're also contributing to the conservation of this stunning marine environment. It's a truly rewarding experience that combines adventure and purpose, and we can't wait to share it with you.
Joining Forces to Combat Marine Debris: Our Cleanup Missions
Remember when Hurricane Irma swept through with those vicious Category 4 winds? It wasn't just our land that suffered - our oceans bore the brunt of it too. Irma left a massive amount of marine debris in its wake, wreaking havoc on our reefs and marine life in the Florida Keys. The aftermath was pretty grim, with everything from plastic to abandoned fishing gear threatening our underwater ecosystems right here in Islamorada, FL.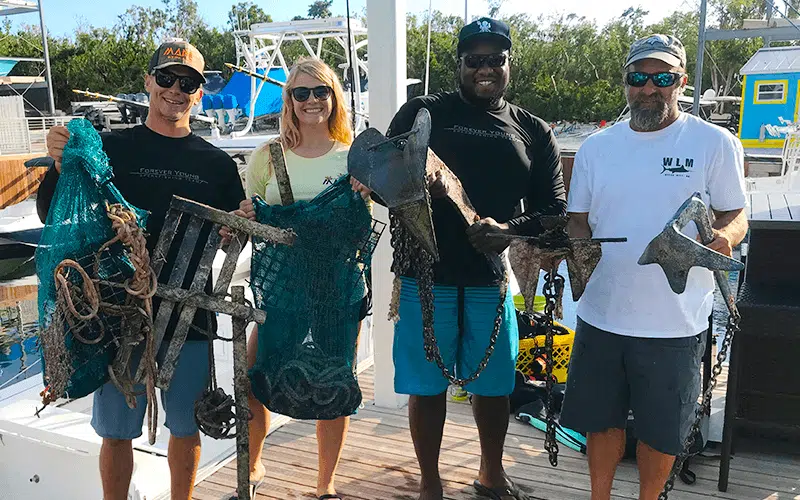 But at Forever Young, we're all about action. We've partnered with the Florida Keys National Marine Sanctuary Foundation and PADI's Project Aware Foundation, rolling up our sleeves to tackle the issue head-on. We've been hard at work clearing marine debris from the upper Florida Keys, doing our part to restore the balance and beauty of our local waters.
Collaboration for Conservation: Our Partners in Debris Removal
Our cleanup missions wouldn't be possible without the support of our fantastic partners - the Florida Keys National Marine Sanctuary Foundation and PADI's Project Aware Foundation. Together, we've embarked on numerous debris removal expeditions, each one bringing us a step closer to cleaner, healthier oceans.
Make a Difference: Join Our Marine Debris Charters
If you've been looking for a way to give back to our incredible Florida Keys environment, we have an opportunity for you. We offer discounted marine debris charters where you can join us on a dive to remove debris from our local waters. It's a unique chance to see the breathtaking beauty of our underwater world while also contributing to its preservation.
Education and Awareness: The Key to a Debris-Free Future
At Forever Young, we believe that knowledge is power. That's why, alongside our cleanup missions, we also focus on education and awareness. We aim to inspire a new generation of ocean stewards who understand the dangers of marine debris and are committed to a future where our seas are free from human-made waste.
Our Alliance with I.CARE: Catalyzing Coral Restoration in the Florida Keys
Here at Forever Young, we're big fans of coral. These vibrant, life-filled structures do so much more than just provide stunning undersea panoramas on our scuba diving trips in Islamorada, FL. They play a crucial role in our marine ecosystems. So when the local non-profit I.CARE made it their mission to boost the coral cover on select reef sites from a worrying 3% to an encouraging 10% over the next three years, we were eager to jump on board.
By joining forces with I.CARE, we've been able to actively participate in their coral restoration efforts right here in the upper Florida Keys. It's been an incredible journey, with each new coral planted marking a small yet significant victory in the fight to revitalize our precious underwater world. And the best part? You too can roll up your sleeves and get involved with this crucial mission.
Experience Coral Restoration Firsthand: Our I.CARE Restoration Trips
Ever wondered what it's like to help restore a coral reef? Join one of our I.CARE restoration trips and you'll get the chance to find out. You'll be able to dive deep into the waters of the upper Florida Keys, witness the marvel of the underwater world, and make a real difference by contributing to I.CARE's essential work.
Understanding I.CARE's Vision: The Importance of Coral Restoration
When you partner with Forever Young for a diving trip, you're not just getting an unparalleled underwater experience. You're also supporting the admirable work of I.CARE. Through our partnership, we aim to share the importance of their mission, helping our divers understand why coral restoration is critical to the health of our oceans.
How You Can Help: Get Involved with I.CARE
Being part of the solution is easier than you might think. There are plenty of ways you can contribute to I.CARE's efforts and make a tangible difference to our local coral reefs. From joining one of our restoration trips to making a donation or spreading the word about their important work, your support can go a long way in helping I.CARE reach its ambitious goals.
Committed to Sustainability: Earning Our Blue Star Stripes in Fishing and Diving
Here at Forever Young, we're not just all about the thrill of the chase in our fishing charters, or the breathtaking beauty we encounter in our dive cruises around the Florida Keys. We care deeply about the world beneath the waves. That's why we're so proud to have earned both the Blue Star Dive rating and the Blue Star Fishing Guide rating. These accolades aren't just shiny badges we flaunt—they're a symbol of our unwavering commitment to responsible and sustainable practices.
When you join us for a charter trip, you're not just getting an unforgettable experience. You're also joining a mission. A mission to respect our marine life, to protect our precious waters, and to ensure that the beauty of the Florida Keys can be enjoyed by generations to come. It's about making every fishing charter and dive cruise count for something more. And we're inviting you to be a part of it.
Pioneering Responsible Fishing: The Blue Star Fishing Guide
With our Blue Star Fishing Guide rating, we've committed to promote sustainable and responsible fishing practices. When you embark on a fishing charter trip with Forever Young, you're not only aiming for a good catch—you're contributing to the longevity and health of the fish populations in the Florida Keys.
Conservation-focused Diving: The Blue Star Dive
Being awarded the Blue Star Dive rating isn't just about our commitment to safety and the provision of quality diving experiences. It's also about our dedication to education, conservation, and responsible diving practices. When you dive with us, you're helping to protect the marine ecosystem that makes Islamorada, FL such a special place.
Join the Journey: Be a Part of Our Sustainable Practices
Every trip you take with us is a step towards preserving the natural wonders of the Florida Keys. Whether you're diving with us, fishing, or just joining a sunset cruise, your participation supports our commitment to sustainable practices. Be part of the journey, and let's help protect our marine environment together.
Common FAQs About Conservation
What Is Forever Young's Mission Regarding Conservation?
Our mission is simple: to conserve, protect, and restore the natural beauty of the Florida Keys through sustainable practices and active participation in various conservation initiatives.
How Can I Participate in Forever Young's Conservation Initiatives?
There are several ways to participate! You can join our cleanup drives, take part in our coral restoration trips, or support us by choosing our sustainable fishing and diving charters.
What Is The Impact of the Lionfish Invasion?
Lionfish, an invasive species, threaten the balance of marine life in the Florida Keys. They consume local species and disrupt the food chain, causing harm to our delicate marine ecosystem.
How Does Forever Young Help Combat The Lionfish Invasion?
We conduct regular lionfish eradication charters to keep the lionfish population in check. Our divers have eliminated thousands of lionfish over the years.
What Is The Coral Restoration Foundation and How Is Forever Young Involved?
The Coral Restoration Foundation is an organization committed to restoring coral reefs. Our owner, Tony Young, interned with them and is actively involved in their restoration efforts.
How Does Forever Young Help In Marine Debris Cleanup?
We've partnered with the Florida Keys National Marine Sanctuary Foundation and PADI's Project Aware Foundation to conduct marine debris cleanup drives. We offer discounted charters for these initiatives.
What Is The Goal of I.CARE's Coral Restoration Initiative?
I.CARE aims to increase coral cover on select reef sites from 3% to 10% over the next three years. We actively participate in these restoration trips.
What Are Blue Star Ratings?
Blue Star Ratings are awarded to organizations that demonstrate commitment to responsible and sustainable fishing and diving practices. We're proud to have received both the Blue Star Dive and Fishing Guide ratings.
How Can I Support The Coral Restoration Foundation?
You can support the Coral Restoration Foundation by participating in our restoration trips, donating to the foundation, or spreading awareness about the importance of coral reefs.
Why Is Coral Restoration Important?
Coral restoration is crucial for the survival of marine life as corals provide food, breeding grounds, and protection for many species. They also play a significant role in mitigating climate change effects.
Call Today for More Details
Custom Boat Trips, Tours and Charters
305-680-8879
Let's Team Up to Preserve the Splendors of the Florida Keys
Hi, it's us at Forever Young, reaching out to you with a heartfelt invitation. We love what we do, preserving the natural beauty of the Florida Keys, but we can't do it alone. We need your help, your enthusiasm, your commitment. Together, we can make a real difference. We have a whole bunch of ways you can get involved, each one playing a crucial part in our ongoing mission to keep the Florida Keys vibrant and healthy.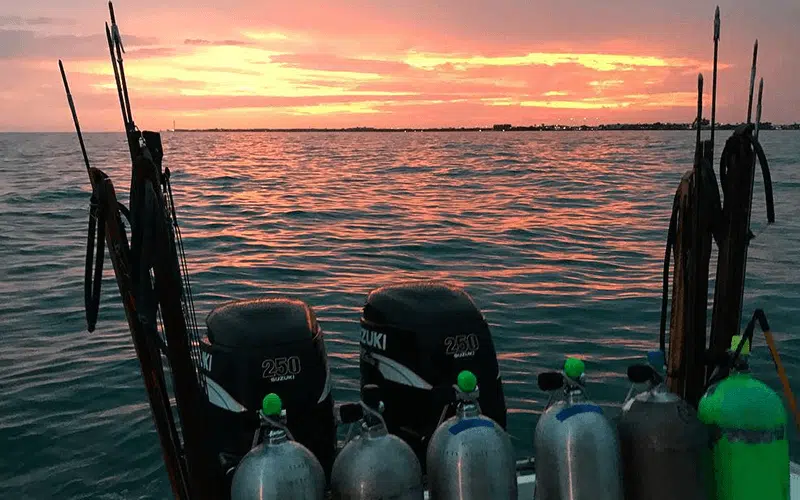 There's a saying we often remind ourselves of, "The journey of a thousand miles begins with a single step." Well, our journey is all about securing the future of the Florida Keys, and your involvement could be that vital step. To get in touch and be a part of this important initiative, don't hesitate to reach out to us. Give us a call at 305-664-8070 and let's make a difference together!
Join Our Regular Cleanup Drives
We regularly host cleanup drives aimed at removing marine debris and keeping the waters of the Florida Keys pristine. By participating in these drives, you'd be making a direct impact on the health of our marine ecosystems.
Be a Part of Our Coral Restoration Trips
Coral reefs are vital to our marine ecosystem. Join us on our coral restoration trips, where you'll learn about the importance of these underwater rainforests and help us in our mission to increase coral cover in selected reef sites.
Support Our Sustainable Fishing and Diving Charters
Every fishing charter and diving trip we embark on is a testament to our commitment to sustainability. By choosing us for your marine adventures, you're supporting our responsible practices and helping to conserve our marine environment for future generations.